SUPERCHARGE THREAT DETECTION & RESPONSE
Corelight transforms network traffic into rich, comprehensive evidence and analytics that help Splunk analysts simplify and optimize enterprise-wide threat detection and response. The Corelight App for Splunk provides the advantage organizations need to boost SOC effectiveness and productivity, with specialized workflows, dashboards, and log filters that enable analysts to eliminate the noise when hunting for threats, and quickly pivot to the right information–every time.
With Corelight's insightful network evidence powering Splunk SOAR playbooks, your overextended team can maintain a stronger security posture with more certainty and less effort. Combining Corelight and Splunk gives your team the power to stay ahead of even the most sophisticated cyberattacks.
Integration benefits:
Seamless ingestion of network evidence into Splunk simplifies deployment
The Corelight App for Splunk accelerates time to value for Splunk users
Intuitive guides and filters help analysts accelerate investigations and detections
Evidence and analytics detect malicious encrypted traffic, DNS exfiltration, and other hidden threats
Secure your environment with rich network telemetry and analytics
Corelight's telemetry improves threat detection and hunting for Splunk users by providing rich, correlated network data across your business. Corelight Collections further amplify detections with insight into encrypted traffic, adversary command and control activities, and more. And close alignment between Corelight Labs and Splunk's SURGe security research group actively works to discover new attacks to help keep your organization secure.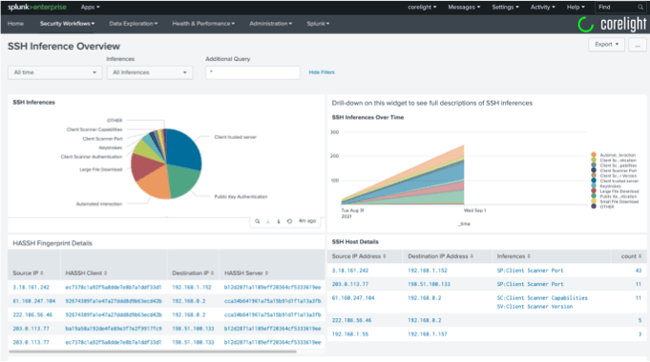 Splunk's security experts enjoy working with Corelight data for network monitoring. Their comprehensive, correlated, and open data takes the headache out of full network visibility, and is specifically designed to power the Splunk security stack from search basics to advanced capabilities like Zero Trust and machine learning.
– Splunk Security Strategist
Automate tasks with Splunk SOAR
Pair the right data with expert playbooks to get SOAR up and running easily.