Last Tuesday Corelight hosted the Bay Area's first meetup for the open-source Bro network security monitor and we saw a great turnout of Bro fanatics and first-timers alike at our San Francisco headquarters.
Meetup attendees mingled over pizza, salad and drinks before Vern Paxson, the creator of Bro, kicked off the discussion, followed by engaging Bro lightning talks by Aashish Sharma of Lawrence Berkeley National Laboratory (Berkeley Lab) and Seth Hall, a core contributor to the open-source project.
Notably, all three individuals are members of the Bro Leadership team.
Aashish walked the audience through Berkeley Lab's network architecture and showed how Bro plays a critical role, providing them with network insights for cybersecurity. They have had Bro running in their environment since 1996!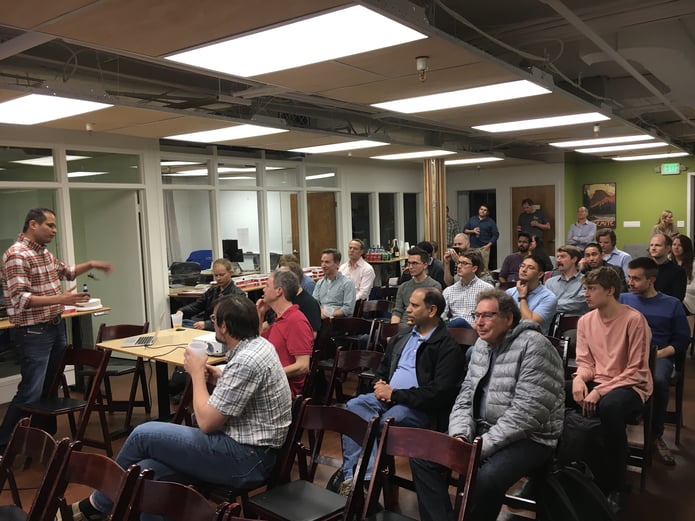 Aashish observed that security vendors and incident responders tend to focus on specific threat indicators, but vendor alerts don't usually explain WHY they fired, leaving the analyst to fill in the gap as part of a lengthy investigation. He urged attendees to evolve from an indicator-centric detection approach to a more attack-centric approach that attempts to identify malicious behaviors at every step of the attack, from scanning to data exfiltration and misuse.
"Bro allows us to design attack-centric detections," Aashish said. He used the example of a phishing attack to show how Bro can see every step of the attack as it passes through the network, from the URL click to the phishing form, to the victim's entry of stolen credentials. With corresponding Bro detection scripts, you could alert at every stage of the attack and light it up "like a Christmas tree". Aashish closed his talk by calling on the Bro community to share more intel and best practices, including attacker M.O.s and methods so that we can collaboratively develop more effective Bro detection scripts.
Seth Hall's lightning talk covered the use of flame graphs to analyze Bro performance and resource utilization trends and anomalies that are not readily apparent from looking at the logs alone. Flame graphs are an open-source visualization tool developed by Brendan Gregg (currently at Netflix) and they can help identify the most frequent code-paths of an analyzed piece of software.
Seth remarked that "real traffic is never like sampled PCAP…there is always something to surprise you" and showed attendees a number of flame graphs he produced of Bro processes running on real network traffic in production.
Seth showed an eye-catching plateau in one flame graph that revealed a particular Bro process behaving abnormally by spending 80% of its execution time in a single function. When he dug into the issue he said he realized a set of tables were filling up, causing this issue, and was able to successfully troubleshoot it.
Corelight has made strong commitments to supporting and promoting the open-source Bro project and community: we're a sponsor of the project and recently hired our first employee whose sole responsibility is open-source project development. You can learn more about Bro at www.bro.org and sign-up for the mailing lists there to get in touch with other Bro enthusiasts and experts.
If you're in the Bay Area, I'd encourage you to join our open source Bro meetup.com group: https://www.meetup.com/Bay-Area-Bro-Security-Meetup/ and attend the next meetup event!
John Gamble - Director of Marketing at Corelight